Sometimes you need to hold the glasses in your hand (or take a selfie wearing them) to know if they're made for you or not. With our $1 Home Trial, get 4 sunglasses of your choice at your home.
How it works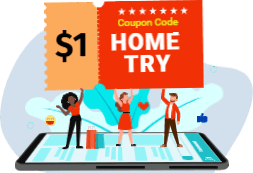 Step 1 – Pick 4 Sunglasses
Add 4 pairs you like in your cart. Use HomeTry Coupon Code during checkout. We'll mail them to you for small fee of $1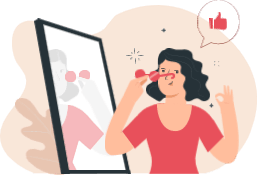 Step 2 – Try them out
Try them out for 7 days and see which ones you like.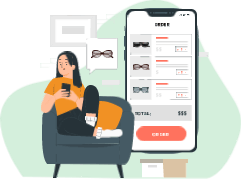 Step 3 – Buy at any time
Return to our website, select your favorite frame, and proceed with ordering.
Step 4 – Return your Sunglasses
Once your 7 days are up, drop your box with all sunglasses at any USPS location with the prepaid return label. Done!
Faq!
When will my Home try on glasses trial package arrive?

Once you place the order, you will receive the '1 Week Home Trial' package within 2-4 working days.

When does my 7 day trial starts?

Your 7 day trial starts the day you receive the trial package.

How to return my Home try on glasses Trial Package?

When you're done trying your trial pairs:
1. Please place the glasses back into the Trial box.
2. Put the return label on Trial box.
3. Drop the package to any post-office.
4. We will let you know when we receive them!

Do you have Virtual Try-On?
Is shipping also free?

Yes! Shipping is free both ways.

Why you charge $1 for Try on and why it's not Free?

We require your credit or debit card information for security purposes. This helps us to ensure that's it's a valid customer.

What happens if I don't return sunglasses?

if you do not return your Home Try-On, or if returned frames are damaged, we will need to charge the card on file the full price for each outstanding or damaged pair. In order to avoid this charge, your Home Try-On will need to be postmarked—it's on its way back to Woodey—by the 7th full day after delivery. If your Home Try-On period ends on a weekend or holiday, just drop it in the mail on the next available day. If you need an extra day or two, call or text us and we'll work something out.

What sunglasses are eligible for home tryon?

All sunglasses priced at $129 are eligible for Home try on.